Best Tips for Creating Excellent Footer Design For Your Website
Footer, as the name proposes, is present at the bottom of a website. It briefly showcases the information in the website's body minimally. Additionally, it sometimes contains copyright notices, fine print, contact information, graphics, pictures, CTAs, and other relevant information about the website.
The plan for creating a perfect footer varies from project to project, solely depending upon the requirements of the business. Several business owners claim that they have doubled the conversion rate after they have carefully redesigned their footer with a precise aim. Footer is more important than what many people think of it, and website footer design plays an important role in its design. Regardless of the nature and size of your website, the visitor would scroll down to the end of your website. That is your chance to move; don't waste that opportunity and make the best of it. Structuring a decent footer for website isn't tied in with finding the best method to design a ton of random substance, but the capability to organize and dismiss pointless or excess data.
Website Footer Design Tips for You!
Here are some key factors that you must consider while designing an impactful footer:
1. Minimalism
An overdone footer is not always informative. Try to emphasize a few elements and stick to creating simple website footers. A combination of a logo, a copyright icon, and social media network buttons is an excellent example of a minimal yet completely informative website footer.
Chron uses symbols and content in the footer. However, it is straightforward and has incredible flow. Each link is anything but difficult to click, and the simple monochromatic details are a pleasant touch.
2. Make it visual
The most essential and convincing part of any footer is it's aesthetics. This statement stands strong even if you remove all the fancy components like CTA buttons and fancy text. A footer still holds humongous significance on its own. There is a fine line between keeping your footer simple and making it dull and monotonous. Add just enough graphic elements and watch your footer doing its magic!
For example, rather than spelling out "Follow us on Facebook," you can give out a FB icon that links to your Facebook page. This looks attractive and also solves the purpose, and that's precisely what we need for a great footer. How to Geek uses a lot of Graphic Elements in their footer, which are easily visible, enticing, and comprehensible.

3. Adhere to the site's writing style and design theme
All site components, to be specific, the header, the body, and the footer, ought to be composed and spoken to similarly. The hues, the text, and the structure design must be similar. It must not look like the footer is a different entity. Instead, it should blend in as one. The tone of the web architecture ought to be legitimate and reasonable. Therefore, maintaining consistency when working on your footer is very crucial. Many website designers add a "footer box" which is a massive mistake as it separates the footer from the rest of the website. So, please do not underestimate this section and emphasize it equally.
Squareboat has one of the best footer designs that completely blends with the theme of the rest of the website. The footer is simple and looks like an indispensable part of the website.

4. Copyright, Privacy Policy, and T&C
You must protect your business by clearly linking to your privacy policy and Terms and Conditions within your footer. You must also connect to additional pages like your GDPR policy page. You would also want to include a copyright notice within your footer. In short, you should have your copywriting notice, privacy policy, and Terms & Conditions pages to be readily available. Yet, make sure that they do not take your visitor's focus away from the footer.
Medium
keeps the copyright very subtle and minimalistic so that it solves the purpose without coming into the way and taking away the attention from more important details.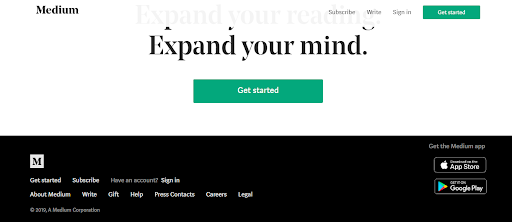 5. Include a call-to-action
Consider what Call-to-Action (CTA) is a critical stage in your sales conversion process. What action could you ask your users to take which might directly impact your revenue? One of the most common steps that can help drive sales is encouraging people to sign-up for your email newsletter. "We invite you to collaborate.", "Drop us a line!" "Leave your contact number & we'll get back to you." A catchy but straightforward call to action in a footer and a newsletter or contact form can help you boost the conversion rate. Make sure it's bright and comprehensive. Remember that visitors don't want to learn how to do this or that action. To encourage people to submit their email id, you can include a newsletter submission field within the newsletter.
Mason Dixon Knitting provides a lot of space to its "Subscribe" box so that it is easily visible and acts as a bridge for the users to interact with them without necessarily joining or being part of a campaign.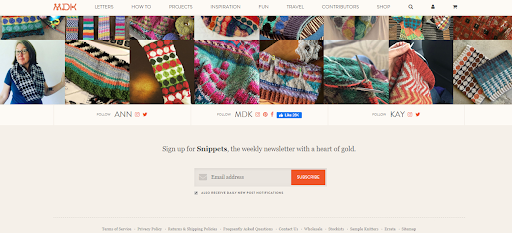 6. Contact Details, Phone Number, and Address.
Contact information is what everyone expects to see in the footer. A phone number with a country code helps search engines determine where you are located. Making each link clickable ensures that your visitors can easily dial your number or send letters with a single click. Half of the individuals will leave a site without contact data. Other than your "Get in touch with Us" page, incorporate your contact details with the site's footer. Guests searching for your contact info or a physical location should not need to look through your site to find it. This must include your location, telephone number, and email address.
The footer at the site of
Methodist Church, Norway
, is absolute as opposed to how you would believe a footer to be. It's negligible yet extremely viable. It obviously expresses the contact information alongside their location and other important data.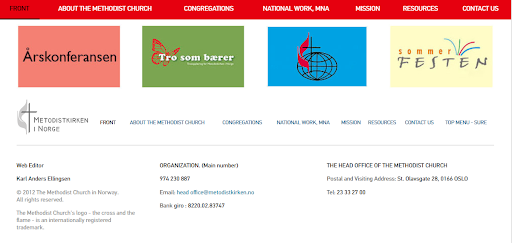 7. Don't add too many Objects.
Though using graphics in your footer is an amazing idea, there's always a fine line between acceptable and annoying. Utilize graphics very responsibly and mindfully. While designing a footer, always remember, 'Less is More'!
Furrion
keeps it simple by adding a minimum number of elements in its footer, making it easy for the user to review the content without getting confused or perplexed.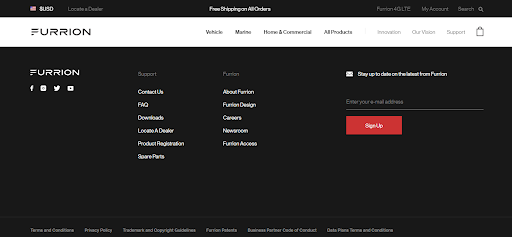 8. Maintain a Hierarchy.
As the name suggests, the footer should fall at the foot of the website. Like your website follows a particular hierarchy of a header followed by the body and the footer, the footer must also follow one. The most significant elements should be placed on the top, then followed by other elements based on their relevance. Basic information and other information like copyright, privacy policy, etc., can be placed at the bottom-most of the website.
Interaction-Design maintains a hierarchy by providing you with the email address first, followed by their online contact form. They have also provided icons of all their social media platforms to make it easy to contact them. The hierarchy in the footer creates a sense of symmetry and is pleasing to the eye.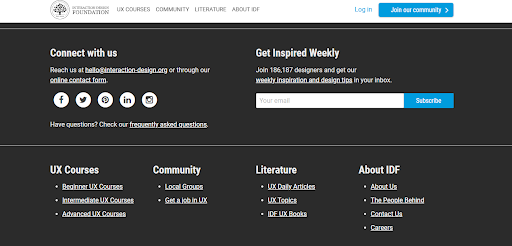 Conclusion
The last thing a user sees on your website is your footer, so make sure that you make the most of it and design your footer so that it delights the user. To guarantee that a user returns, give important and alluring data. A steady footer can draw you more commitment than any other part of your site. With the information that your webpage footer may direct whether a guest stays indulged with your website or leaves, work on the points mentioned above to make your footer attractive. We hope you found the information on the website footer design helpful!
Now that you have reached the bottom of the article, feel free to look at our footer and let us know what you think!
People Also Reading:
Frequently Asked Questions
1. How do you make a good footer?
You can use some tips for making a good footer, such as keeping the design simple, including the basic contact information, adding a call-to-action button, using some graphic elements, writing the copyright notice, etc. Adding this data will help you create an appealing footer.
2. What is a theme footer?
When we talk about WordPress, there are different themes. So whenever you pick a theme, it displays on the bottom of every website page.
3. What are the elements of a footer?
A footer's major elements can be your contact details, copyright data, and all your social media profiles.
4. What are the types of footers?
There are many footers, such as contextual footer, fat footer, CTA-focused footer, sub-footer, and many more.